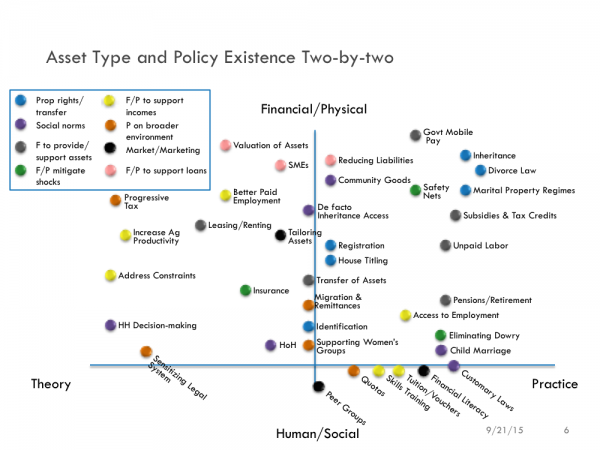 The objective of the Asset Building Policy and Financial Levers project was to scope policy and finance levers that support women's access to and ownership of productive assets, including financial assets, immovable property, and ICT for the Development Policy and Finance (DPAF) team. A larger group of stakeholders, including representatives from the Financial Services for the Poor (FSP) and Agricultural Development programs, provided input throughout the project.
The project had two phases focused on physical and financial assets. Following several expert consultations, a literature scan of the topic, and review of key documents recommended by BMGF, the first phase of the project developed a full two-by-two typology of asset type by policy existence to represent policy and financial levers to build women's assets on a national level. Several additional conceptual examples for the typology were also provided should the group wish to organize the identified policy domains and sub-related issues in different ways.
Following presentation of the Phase I typology, the stakeholder group identified several priorities for a literature review of the evidence for Phase II of the project. UW START researched literature in several databases, prioritizing marital property regimes, head of household policies, and subsidies and tax credits in India. Through the review of over 1,136 titles, papers on joint titling policies and inheritance regimes were also elicited.  The results of this review culminated in a presentation to the larger group and a written executive summary to synthesize the evidence.