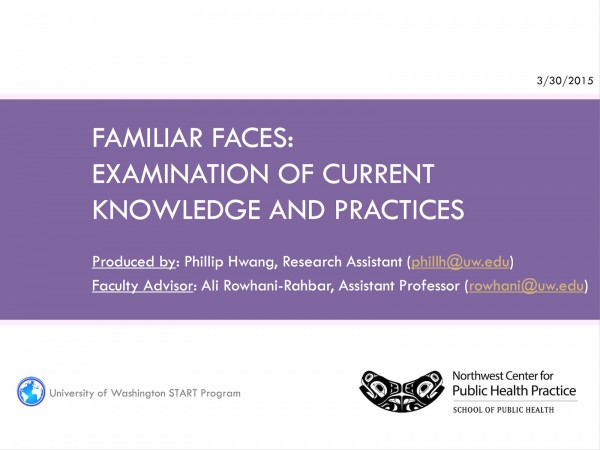 To help inform the Design Team as it moves towards developing a Future Vision plan, the Domestic START team was asked by PHSKC, King County Health and Human Services Transformation to propose examples of multi-sector collaborations to improve health and other outcomes among high users of jail health services. Integral to this goal were the following objectives:
Objective 1: Understand current system (i.e., current state map) through an orientation, design team meetings, walk-throughs
Objective 2: Literature review and propose framing for setting up scenarios or how to frame information
For the first objective, the Domestic START team engaged in weekly Familiar Faces Design Team meetings as well as attended process walks. These process walks involved the jail, housing, and health services sectors which allowed for a better, more real-time evaluation of where current gaps in coordination and services exist. Inefficiencies or redundancies in the system were also evaluated through this process using Lean principles to not only aim for greater client service experience, but to improve efficient use of limited resources.
For the second objective, a combination of online searches using PubMed and other search engines, and phone interviews were performed to search for and learn about different programs and/or initiatives that are currently underway in other locations that pertain to the "Familiar Faces" population. Once all information was collected, tables were constructed to organize and synthesize the material for similarities and differences that could be applied to the "Familiar Faces" project.
The final deliverables for the project were an oral presentation to the Design Team with a PowerPoint slide deck, and a white paper summary.