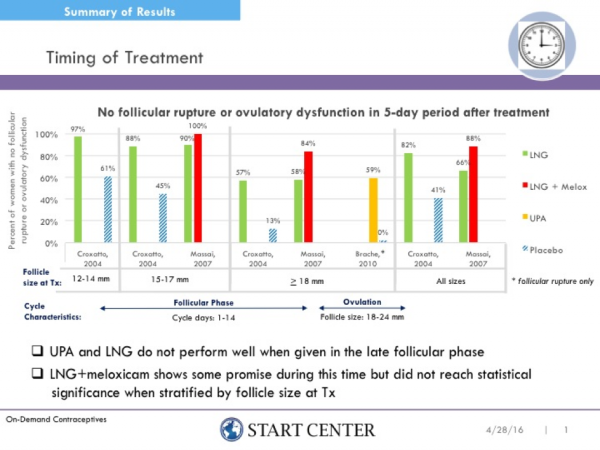 The objective of the Family Planning On-Demand Contraceptive project was to assess the pharmacokinetic(PK) and pharmacodynamics(PD) properties of current products approved for emergency use, UPA and LNG, for potential use as an on demand contraceptive. The main conclusion was that neither product appeared to be promising for repeat use given current evidence.
Two separate searches in EMBASE and Pubmed for articles published in the last 25 years resulted in 524 titles and ultimately, 13 articles were included for review. The endpoint of interest was either ovulatory inhibition or delay determined by either transvaginal ultrasound (TVU) or progesterone levels. There were no articles evaluating any dose of LNG for repeat use during one cycle. One recently (2016) published study revealed inevitable ovulation in women taking UPA multiple times in one cycle. Throughout the project the team also conducted interviews with six experts in the fields of family planning policy, medicine, and emergency contraception.
The results were summarized according to cycle effects, patterns revealed in dose and formulation, route of administration (vaginal vs. oral), timing of dosage according to cycle and any evidence linking bioavailability to ovulatory endpoints. Timing of dosage of EC had an association with efficacy for both LNG and UPA. In addition to other factors, this was a key piece of evidence that informed the conclusion that use of these products in an on demand fashion would currently not be recommended.