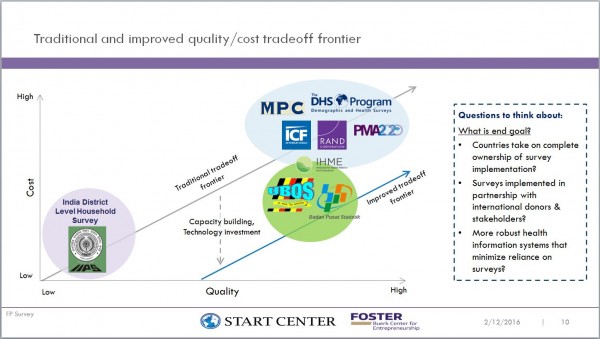 The purpose of this START Center project was to describe the typical matrix of data sources available in LMICs.  This mapping included exploring the variety of domestically-financed national surveys that LMICs regularly administer and their estimated costs.  Barriers to building local survey capacity were explored and comparisons between what is currently paid for data collection by the foundation, national governments, and other funders of data collection were examined.
Objective 1: Landscape report of domestic surveys for selected low- and middle-income countries, including estimated administration costs.
The project was divided into two phases.  Phase one consisted of identifying and cataloguing the various domestic surveys conducted in 24 select countries participating in the foundation's Track20 investment which supports national efforts to collect, analyze, and use data to track progress in family planning.  In Phase two, survey data costs were investigated in four selected countries.  Interviews were conducted with subject matter experts at the Institute for Health Metrics and Evaluation (IHME) and Track20 M&E Officers to supplement information obtained from a literature search on the topic.
The final deliverables included a final presentation slide deck mapping the major sources of domestic data and list of domestic surveys in LMICs.