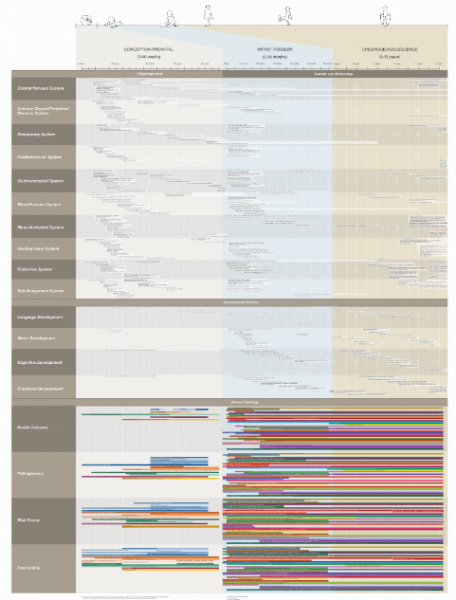 The Healthy Birth, Growth, and Development knowledge integration (HBGDki) program is focused on the interrelationship of physical growth, cognitive development, and preterm birth, particularly as it relates to growth faltering and cognitive impairment. The program aims to integrate multidisciplinary research and data across BMGF teams as well as data collaborators, to develop a more comprehensive understanding of risk factors of growth outcomes and discover effective solutions. To support this work, The START Center team was engaged to create a timeline of seminal events in physical growth and developmental domains from conception through adolescence. In addition, the timeline included major causes of morbidity and mortality that could disrupt normal development, as well as risk factors and interventions associated with those illnesses. The first phase of the project involved drafting a timeline template. The finalized template included:
 Three horizontal sections: conception through birth, neonatal through age 3 years, age 3 years through age 13 years.
Three vertical sections: organogenesis, growth, and maturation categorized into 10 organ systems; developmental domains, focusing on language, motor, cognitive, and emotional development; and a disease pathology section, displaying outcomes, pathogenesis, risk factors, and interventions.
The next phase of the project required populating each section and presenting the progress at interim check-in meetings with the Program Officer. Information was collected through reviews of medical textbooks, peer-reviewed articles, and grey literature. The final deliverable was a 14ft by 9ft seminal events timeline. This will serve as the basis for a future work order that will translate the timeline into a digitized, interactive format.
The START team was asked to present this finalized timeline, and how it relates to other HBGDki efforts, at the Bill & Melinda Gates Foundation HBGDki Convening, April 19-22, 2016. START provided a presentation on April 20th, and the finalized Seminal Events Timeline poster was printed and featured at the convening.
Check out START's HBGDKI Convening presentation, as delivered by Research Assistant Jessica Long, below.