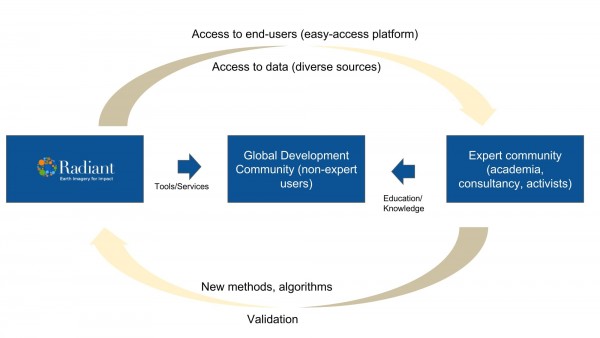 START, with support from a group of University of Washington geography students, participated as rapporteurs in the Radiant (Formerly "Open Imagery Network") Thought Leaders Summit hosted by the Bill & Melinda Gates Foundation in Seattle.
START members, with support from faculty and students from the geography department, attended a two-day convening and acted as rapporteurs for 15 working group sessions. The goal of the summit was to help Radiant advance a new, innovative pathway to open imagery, data, and analytic tools. To achieve this goal, thought leaders worked together to produce several outcomes:
Identify the key elements and actions needed to create a new paradigm that would improve access and use of geospatial tools – especially in developing nations.
Gather feedback about existing and planned programs, and factors that may enhance the value and use of these programs.
Define priorities and understand where urgent needs and opportunities exist, which will help drive near-term actions and shape long-term goals.
Build commitment from various partners and stakeholders while garnishing support for the realization of Radiant's vision.
Ten distinct groups were established to discuss these goals. On day 1, two rapporteurs were each assigned to a breakout session focused on: Agriculture, Food Security, and Forestry; Conservation and Environment; Global Development; Global Health and Humanitarian Response; and Property Rights, Government Transparency, & Journalism. On day 2, two rapporteurs each attended two breakout sessions focused on: Data Providers; Commercial and Open Source Developers; Academia, Value-Added Entities and Consultancies; Funding Agencies; and End Users.
START RAs attended each session, took detailed notes, and assisted the session leader in creating PowerPoint report-outs for each session. The notes were then cleaned and compiled into a report for Radiant.