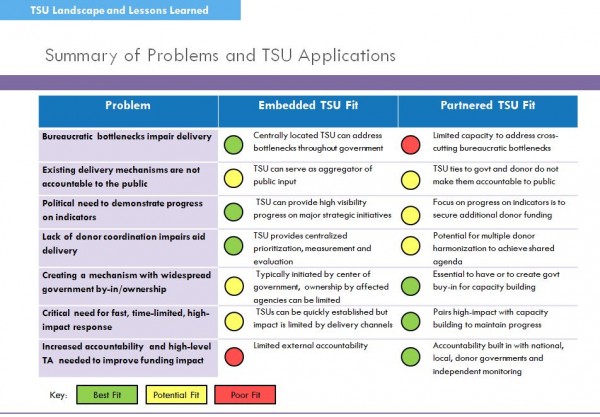 Technical support units (TSUs) are powerful tools with demonstrated impact on priority issues in countries across income categories. The opportunities for improving outcomes through a TSU in a middle-income setting are exemplified by the dramatic results in Botswana delivered by the TSU known as the African Comprehensive HIV/AIDS Partnership (ACHAP).
The Foundation engaged START to complete three main objectives:
Objective 1: Identify lessons learned from other funders of TSUs with a focus on World Bank, USAID, DFID and UNAIDS; the output of this research will be captured in a series of case studies.
Objective 2: Identify generalizable features/best practices from existing published and grey literature.
Objective 3: Develop a more refined typology/taxonomy for classifying and discussing TSUs.
For objectives 1-3, the team first conducted a literature review to identify as many TSUs as possible. The team then used a case study approach to describe the different typologies of the TSUs found. Using this approach, the team described two basic types of TSUs -embedded TSUs that are situated within the larger government, and partnered TSUs that work with the government through an NGO. In the case studies, the group examined what types of problems each typology was best at addressing. For example, embedded TSUs are best for addressing bureaucratic bottlenecks that impede the delivery of development programs. These case studies were presented as a formal report and slide deck to the Gates Foundation to inform decision making about investing in the TSU model.