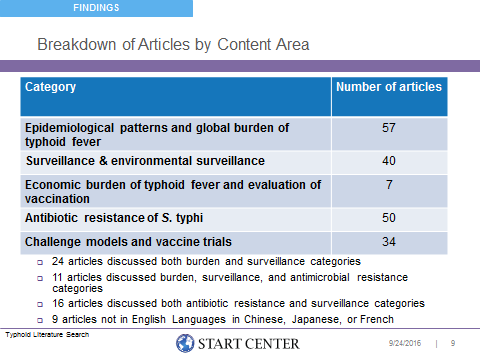 The START team was commissioned by BMGF to work on a literature review that would contribute to improving the current scientific knowledge on typhoid fever. The review would also be shared with BMGF collaborators as a potential contribution to the review of evidence in support of typhoid vaccination policy and future policy development of technical resources and guidance on typhoid fever and typhoid fever vaccines. A comprehensive literature search was conducted in the following five areas:
Epidemiological patterns and global burden of typhoid fever
Surveillance and environment surveillance
Economic burden of typhoid fever, and economic evaluation of vaccination and other control strategies
Recent trends in antibiotic resistance of S. typhi
Challenge models and vaccine trials
Other search criteria included publications from January 2007 until Present time frame, as well as making publications in English as priority for inclusion.  Although the focus of the search was on typhoid fever, some papers that combined data for typhoid fever and paratyphoid fever (or enteric fever) were included as well.