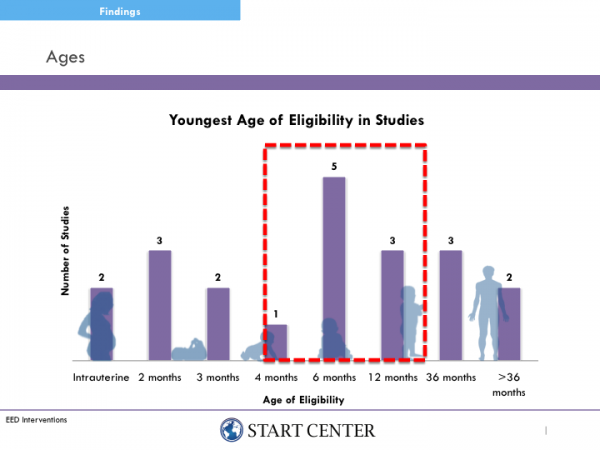 The objective of the Environmental Enteric Dysfunction (EED) Interventions project was to identify and synthesize interventional trials targeting and affecting EED-related outcomes in young children in lower and middle income countries (LMICs). This review covered both past (published) and current research in this area.
In the first phase of the project, an extensive and comprehensive literature review was conducted in Pubmed, targeting published literature that identified biomarkers commonly accepted as potentially diagnostic or indicative of EED in young children. From over 1,500 titles, 19 full text articles were included in the final review. These articles covered a variety of interventions including multiple micronutrients, supplements (e.g. glutamine), anti-inflammatories (mesalazine), anti-pathogenic agents (both antibiotics and antihelminthics), probiotics, and combination interventions. Most interventions showed no improvement in measured biomarkers and iron was slightly associated with worse outcome. Glutamine was the only intervention demonstrating a possible positive effect with limited evidence.
In the second phase of the project, ongoing interventional trials for EED were catalogued and summarized using information from ClinicalTrials.gov in addition to interviews with researchers current in their field, identified by the Foundation. In comparison to the published literature, this review contained four studies examining hygiene and sanitation interventions. Future directions for EED interventions and innovative ideas for studies and measurement gleaned from the interviews with experts and researchers were also highlighted.
It was determined that a review of safety for probiotic interventions was beyond the initial scope for this project and established as a new project, "EED version 2.0."