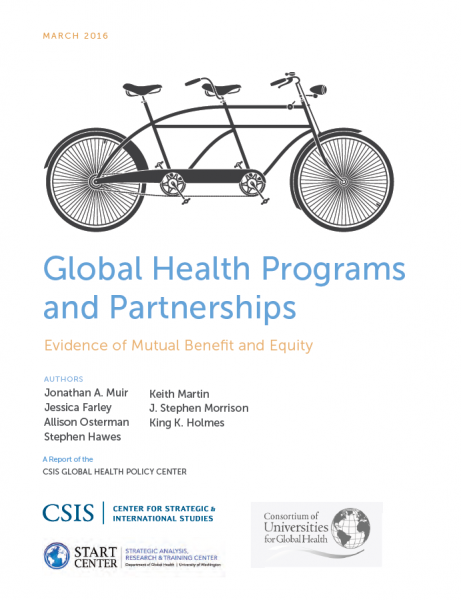 This study employed surveys and key informant interviews to examine global health partnerships and presented a framework for success to guide the development of sustainable global health programs and partnerships with measurable, defined impact.
Core objectives of the study included:
Examine the mutual benefit of international partnerships in global health programs at academic institutions, including determinants of equity, benefit, harm, and sustainability.
Develop a strategic roadmap to guide North American academic institution global health programs and their international institution partners in developing sustainable collaborations, with measurable and defined impact.
Study results provided evidence of mutual benefits resulting from these global health partnerships as well as areas for further development and improvement. The final deliverable included a formal report delivered to the Center for Strategic & International Studies (CSIS) and published by CSIS/Rowman & Littlefield, available here.
On April 1, 2016, START Center Research Assistant Jon Muir, along with faculty Dr. Stephen Hawes and Dr. King Holmes, traveled to the CSIS headquarters in Washington, D.C. to deliver a presentation as part of the study launch. Findings were subsequently presented at the 2016 Consortium of Universities for Global Health Conference in a plenary session with Katherine Bliss from CSIS acting as discussant. To conclude, the START team wrote an editorial based on their study findings, featured in Science Translational Medicine.