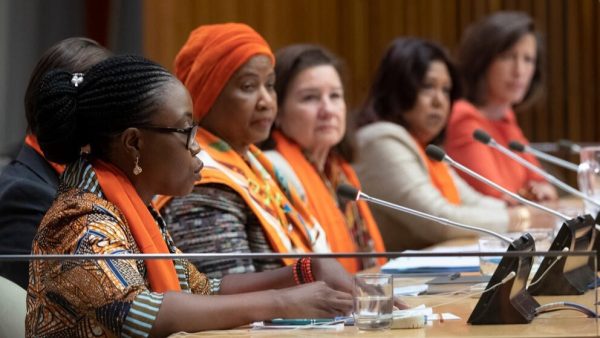 According to the United Nations Sustainable Goals Development Report of 2023, the world is not on track to achieve gender equality by 2030. Presently, 1 in 5 young women are married before their 18th birthday, nearly half of married women lack decision-making power over their sexual and reproductive health and rights, and it will take another 140 years to achieve equal representation in workplace leadership if progress continues at its current rate. The Bill and Melinda Gates Foundation's (BMGF) Women in Leadership (WIL) strategy aims to accelerate progress toward the United Nations' Sustainable Development Goal 5: Achieve gender equality and empower all women and girls. The START Center was commissioned by this BMGF team to conduct a literature review to understand market dynamics and best practices on women's leadership across the sectors of health, law, and economics in the geographies of India, Kenya, and Nigeria.
First, the START team mapped key individual and organizational stakeholders influencing the push for women's leadership globally, these stakeholders were then mapped by level of influence.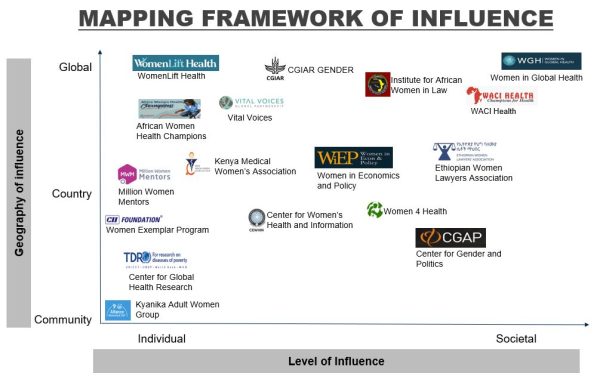 Next, the team took a deep dive into the deployment of gender quotas and identified cultural and societal factors that can make gender quotas more or less effective. Gender quotas are a tool to promote equal access to training opportunities or jobs and are placed to mitigate previous gender imbalances. About half of the countries of the world today use some type of electoral quota for their parliament, though these systems are as diverse as the political systems of the countries themselves. Norway set a precedent for corporate gender quotas by being the first nation to adopt them in 2003 by stipulating a minimum 40% representation of each gender on a wide spectrum of Norwegian corporate boards. A study assessing these historic reforms reported that women appointed to these boards post-reform were more qualified than their female predecessors along many dimensions, and that the gender gap in earnings within boards fell substantially. Many nations soon followed Norway's lead. Several factors contribute to making gender quotas effective, particularly these items highlighted below:
Quotas are most effective when they set placement mandates: This means requiring women to be placed in winnable positions on party lists, and when they sanction parties for not complying with the quota law. These rules prevent quota rules from becoming merely symbolic, with only a few women getting elected because political parties have placed most of the female candidates at the bottom of the lists or in unwinnable constituencies.
Quotas are most effective when enforcement mechanisms are imposed: While legislative entities aid in monitoring these laws, enforcement mechanisms including reject candidate lists, monetary sanctions, restricted access to campaign funds, and financial penalty for parity quota noncompliance can aid in ensuring these laws are not tokenized.
Quotas are most effective when men are engaged in the change-making process: One example comes from the health sector - The Stepping Stones Program remains an outstanding model for its comprehensive work with men and women for lasting and quantifiable change in gender-related attitudes and behaviors in Uganda.
Quotas are most effective when structural barriers are addressed: As will be discussed below , the structural barriers women face remain unaddressed even in developed nations, with only a fraction of world's nations providing maternity leave, office-based childcare, and other support mechanisms. Addressment of these barriers encourage both participation and longevity for women in leadership positions.
Lastly, the START team identified the following practices as best practices in increasing women's leadership: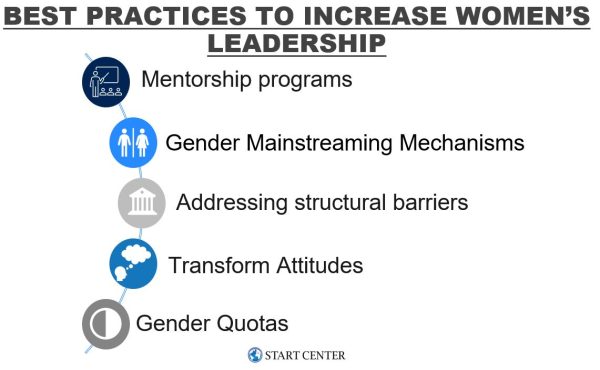 Currently, mentorship programs are more numerous in the corporate realm than the non-corporate sector, though there is positive movement in the diversification of these programs. Examples include mentoring programs for women in the film & television industry in the UK and the Netherlands, or in Myanmar, the International Women's Development Agency (IWDA) and Akhaya Women implemented a structured mentoring program matching women MPs with experienced Australian women MPs and former MPs.
Gender mainstreaming is a strategy involving the integration of a gender perspective into the preparation, design, implementation, monitoring & evaluation of policies, regulatory measures and spending programs, with a view to promoting equality between women and men, and combating discrimination. Many countries have established dedicated committees for this, including Mexico's Gender Equality Commission of the Chamber of Deputies, Kenya's National Gender and Equality Commission, India's National Commission for Women, and more.
In addressing structural barriers, more attention should be given to alleviating women's burden of being primarily responsible for childcare, and having disproportionate access to education or safe transportation. There is much work to be done in guaranteeing a new parent's right to parental leave.
Mainstream media often promotes a negative and stereotypical portrayal of women leaders. A meta-analysis has reported a gender bias in the amount of media coverage that women politicians and men politicians receive, furthermore, women politicians receive more attention regarding their appearance and personal life. In Kenya, organizations like the Association of Media Women in Kenya (AMWIK) monitor media coverage to identify instances of bias or underrepresentation. In Jordan and Yemen, workshops are conducted to train reporters on gender-sensitive reporting under the "Joint Election Assistance Project."
In summary, the individual and organizational stakeholders working to accelerate women's leadership are diverse in their scope and methods, though they all have an important role to play in the push for gender equity. Gender quotas in isolation are not enough to ensure sustainable or meaningful change, a supportive social and political environment at all levels of society is essential to sustain advances in gender equality. Intersectional approaches must continue to be at the forefront in recreating more gender equitable systems.